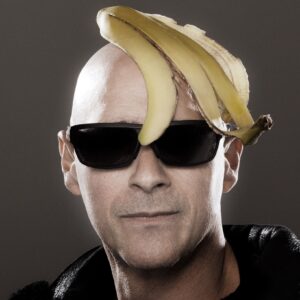 A musical genius born of Frank Zappa, honed by Missing Persons, a talent matured to award-winning international acclaim with Duran Duran, one of the biggest bands of the 80's & 90's, Warren Cuccurullo has truly emerged as a musician's musician, a master improviser, and an old school rock star bandleader/mc.
Born and raised in the Canarsie neighborhood of Brooklyn, NY. Warren started playing drums (age 9) and guitar at age 10. He formed bands and it quickly became the perfect way for him to try out his own ideas. He wrote his first song at age 14 and it was a favorite in his band's set. By his late teens, Warren had become THE die-hard Frank Zappa fan, and for much of the decade, would travel far and wide to catch Zappa in concert. It wasn't long before he became friends with members of Zappa's crew, backing band  and eventually, Zappa himself. He appeared in a backstage segment for Zappa's concert movie Baby Snakes, and soon enough got the phone call he'd been waiting for. Warren was invited to try out to for a coveted vacant guitar slot in the band. Cuccurullo got the gig, appearing on tour with Frank, and on such albums as Joe's Garage: Acts 1-3, Shut Up & Play Yer Guitar, Tinseltown Rebellion, and volumes one, four, and six of the You Can't Do That on Stage Anymore series. Warren was the first official 'stunt' guitarist hired by Zappa to be followed by monster talents Steve Vai & Mike Keneally.
After his tenure with Zappa, Warren moved on to form the new wave outfit Missing Persons. The band enjoyed success early on with such hit singles as "Words" and "Destination Unknown," from their gold-certified debut album Spring Session M. The band toured internationally and released 2 more albums; Rhyme and Reason, and Color in Your Life. But with growing internal tensions in the band, Missing Persons eventually broke up. Coincidentally, Warren got word from an insider that Duran Duran was about to lose their founding guitarist, and he inquired about joining. Cuccurullo was soon invited onboard (and quickly included as an official band member) and went on to record and write on the albums: Notorious, Big Thing, Liberty, the self-titled release "The Wedding Album" (for which Warren was awarded songwriting honors from ASCAP, spurred 2 international smash hit singles and a collaboration with legendary Brazilian singer/composer Milton Nascimento), Thank You, Medazzaland (which included Cuccurullo's composition 'Electric Barbarella' – a pioneer in online music sales), and Pop Trash an album that the bands singer described as 'a Warren Cuccurullo solo album' in large part due to an organizational and music direction skill that began when Warren was just 14 and perfected with his tenure and relationship with Frank Zappa.
The anthemic songs penned by Warren during that time have been covered repeatedly by hundreds of artists from rappers to opera legend Luciano Pavarotti and are a staple on film and television soundtracks.
Despite an intense schedule, Warren's immense creativity and decades long devotion to sobriety & exercise afforded him the opportunity to work on several side projects and write, produce and record solo albums including Thanks to Frank, Machine Language, Roadrage,  The Blue featuring Shankar and The Master with Ustad Sultan Kahn. 
Warren went on to release 'The Blue' with Shankar, opened the  award-winning Santa Monica Italian restaurant 'Via Veneto,' and record the solo albums 'N-liten up', Playing in Tongues, 'Chicanery' (w/Neil Carlill), release both 'The Master' with Ustad Sultan Khan and a side art project called TV Mania with Nick Rhodes, form and record 'The Rose Vortex' with jazz tenor sax legend Azar Lawrence, Tommy Mars & Joe Travers, & now in 2019. He is developing his "One Man Jam band' enhanced with his own hand made visuals generated on screens and releasing 'Missing Person' a collection of songs recorded with guest musicians and vocalists which features a cover of one of Warren's favorite tracks, Gary Numan's 'Me, I Disconnect from You' and a tribute to one of his his heroes, Prince, with 'Back in 1981.'
---
Read "Reflections on Duran Duran's 'The Wedding Album'" on DuranDuran.com

Excerpt: "I feel I have to credit Warren, in large part, for getting this album on track and keeping it there, helping us ultimately to hit those Billboard Bullseye's. From beginning to end Warren kept a watchful eye over all the recording, overdubs, mixes and expenses. He really got to flex those muscles of his, which were considerably bigger at album's end than they were at the outset!" – John Taylor

ASCAP Performing Right Society
"Ordinary World" – Songwriting

ASCAP Performing Right Society
"Come Undone" – Songwriting